Skyblue Stationery Mart is the brainchild of Shailesh Pithadia, MD, Skyblue Group, who felt the need for a one stop solution for all stationery needs, right from daily school requirements to professional supplies. This unique and biggest stationery mart was thus established in 2008 in Ahmedabad.
For more than 12 years now, hundreds of school children, parents, collegians, art enthusiasts, corporate and professionals come daily to Skyblue for their stationery and gifting requirements. After serving thousands of clients in Gujarat with top quality national and international brands of stationery, art and craft supplies, premium pens and gifting, Skyblue now serves the audience nation-wide.
We at Skyblue understand the need of the emerging modern art forms and provide end to end solution for modern art supplies from top national and international brands. We also showcase fine writing instruments and luxury gifting from all over the world!!!
Keeping your busy schedule in mind, Skyblue Stationery Mart is now online. We bring a seamless online stationery shopping experience to your doorsteps offering everything that you think!
Vision
We believe in fostering creativity and innovation in every individual and envision becoming a part of her/his growth. With 5 stores in Gujarat and thousands of happy clients we plan to open brick and mortar stores in major cities of India. We bring best global sellers in India to provide unique and quality products that are never experienced before.
With our online store we bring the widest range of stationery and gifting to your doorsteps and provide a completely hassle-free experience.
Message from Director
Greetings from Skyblue!
Skyblue Stationery Mart is a pioneer of organised stationery retail chains in India. It began with a vision to cater to the diverse needs of stationery products across all age groups of people. A place where you get everything that you think of in stationery products like architecture stationery, kids stationery store, office stationery, art and craft store, premium pen store, corporate gifting, design stationery, pen store, gift store, origami paper, dream catcher, and more.
At Skyblue Stationery Mart, we endeavor to fill the gap in the market by providing a unique shopping experience to our customers with a wide range and quality products. We strive to make the industry more organized and keep abreast with the operation with new-edge technologies and futuristic approach.
While we are present across Gujarat, we aim to expand our presence across India by offering franchises to like-minded, passionate individuals and organizations.
We believe that all of us should dream as wide as the sky because those who dare to dream only have the guts to realize it.
Let us join hands in this unique venture and achieve greater heights. Looking forward to hearing from you.
Warm regards,
Shailesh Pithadia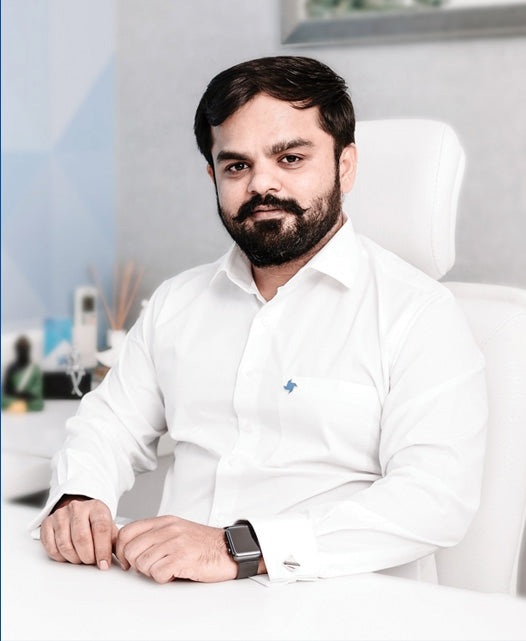 Our Team
Robert Johnson

Senior salesman with 15 years of experience. He knows everything about the products he offers.

Jessica Priston

Mega positive shop assistant always ready to help you make the right choice and charm you with a smile.

Sam Kromstain

Wholesale manager. Contact him if you want to buy a batch of the products offered at our store.

Edna Barton

Quality control manager. Her mission is to check the products we ship and settle quality issues if any.